From the archives: P40
우수한 아이디어의 요람으로 불리는 P40은 긴 라운지 의자로서 탁월함을 가지고 있다. P40은 뛰어난 미적 스타일과 안락한 형태를 자랑하며, 이것은 두드러지게 간단하면서도 스타일리쉬한 실루엣으로, 조절 가능하고 심지어 완전히 뒤집을 수 있는 독특한 매커니즘을 숨기고 있다.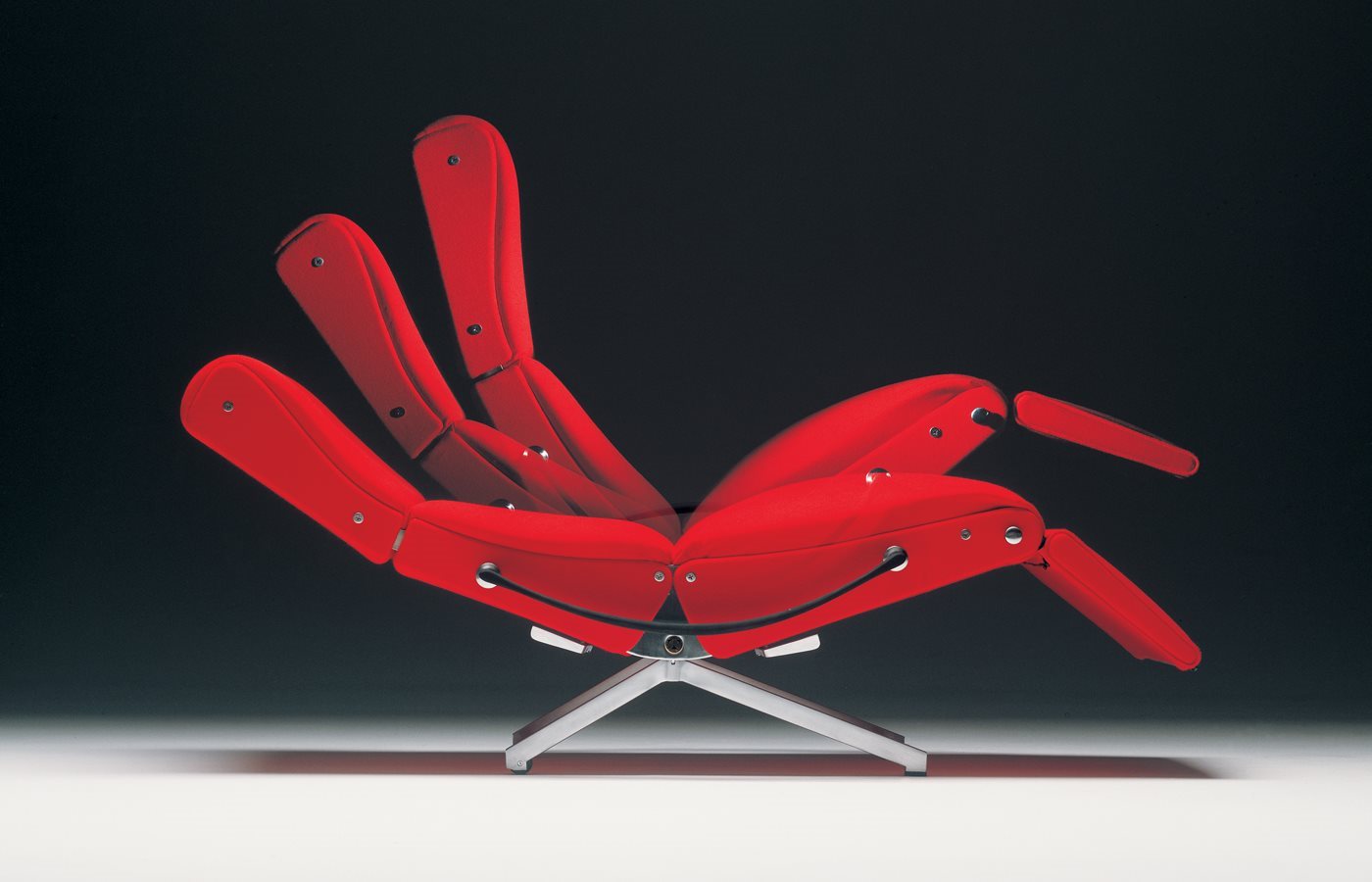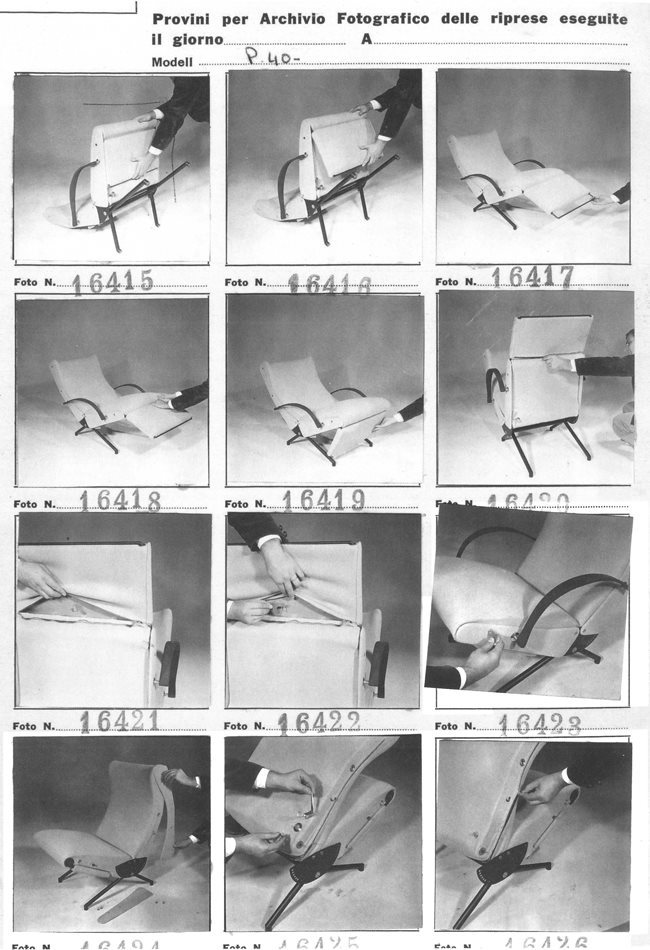 A new armchair
The first official presentation of P40 was made during the 1957 Milan Triennial XI exhibition in the segment entitled "Rassegna di elementi singoli d'arredamento" (Collection of individual furnishing elements) as part of the "Mostra internazionale dell'abitazione" (International home exhibition).

Following the success of the D70 sofa at the 1954 Milan Triennial X exhibition, Osvaldo Borsani further developed the idea of the mechanical joint with the aim of creating an armchair for relaxation fitted with mechanical movements that would accommodate the various rest positions.

The architect appeared to want to develop and optimise the technology and potential of certain well-known chaises longues offered by the most famous architects in the Modern Movement.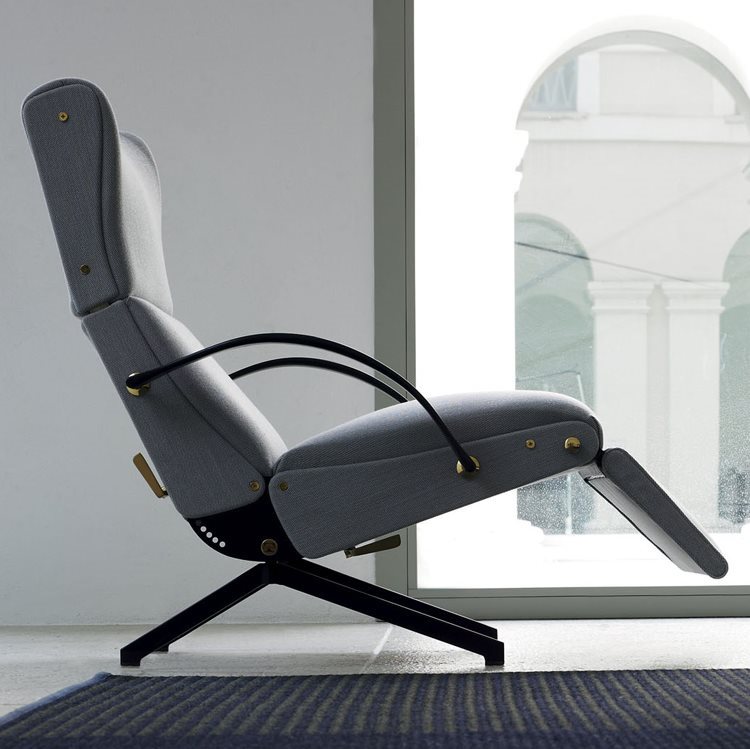 The home as the hinge pin of the good life

"The P40 is a quick, essential armchair, elementary like the first sum: one and one is two. The daughter of the 'deckchair', it corrected all the flaws of its mother, of its ancient mother made of wood and canvas, rattan or wicker. It eliminated the faults of solemnity and presumption of its predecessors. It folds up like a fan. It welcomes ladies with gentle amiability and even the bulkiest gents comfortably. It can immediately disappear, erasing all traces of momentary idleness from the home. It offers its curves for navigating dreams, for the delights and recuperation afforded by relaxation." It is the writer's cradle of good ideas."

- Orio Vergani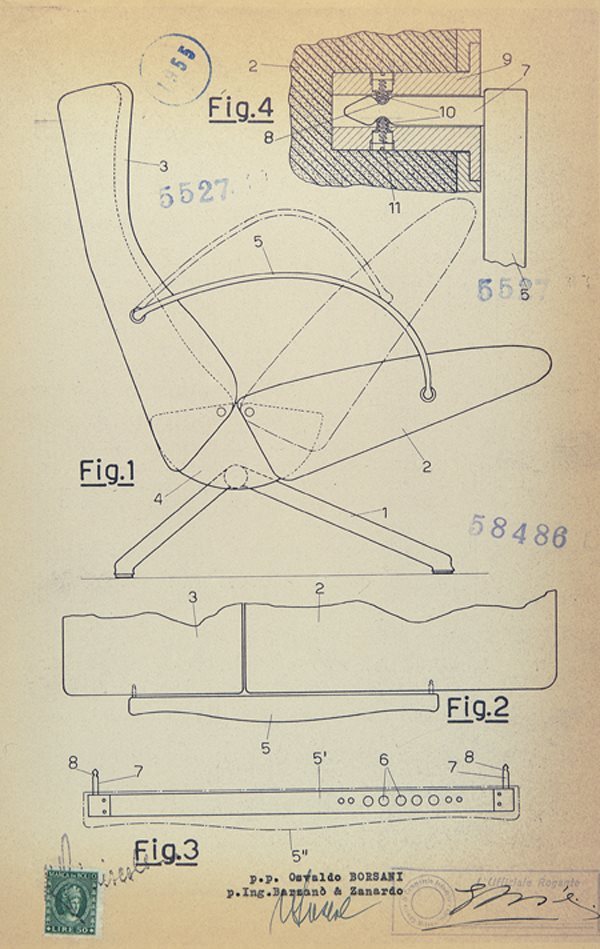 The chaise longue par excellence

All the components, down to the smallest metal part, are made according to specific drawings and dedicated to P40.

Patented for its technological-industrial characteristics, P40 is defined as an "Armchair-sofa with two elements (seat and backrest) with independently adjustable reclining, with form-stable and elastically deformable armrests." (from the utility model patent no. 58486 of 16/05/1956).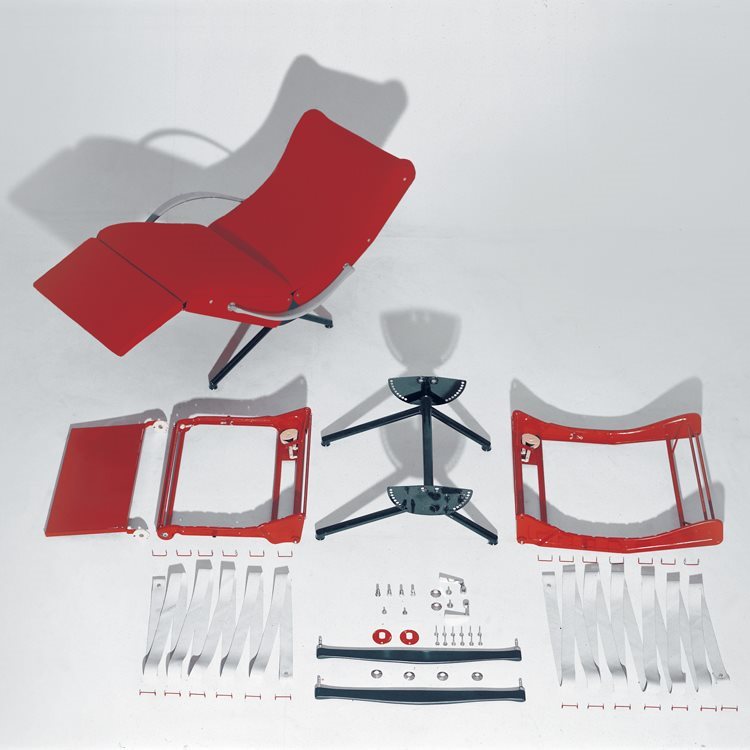 Technical structures

Reclining armchair consisting of a metal pedestal that supports both the seat and backrest, which are hinged together to allow all possible reclining positions. The seat conceals an additional reclining element to support the legs, from which the metal footrest can be drawn out. Last but not least, the steel and rubber armrests are designed to be reversible and facilitate the support of the arms or aid the sitting down or getting up movements.

The internal structure is made of sheet metal stamped with special ribbing to make the whole more solid and form-stable, while all the time remaining absolutely lightweight. Comfort, in addition to shape, is guaranteed by the foam rubber padding, with elastic cord-tape supports and coil springs. The cover that clads the armchair like a garment is fitted with zip fasteners to make it fully removable and customisable in terms of colours and fabrics.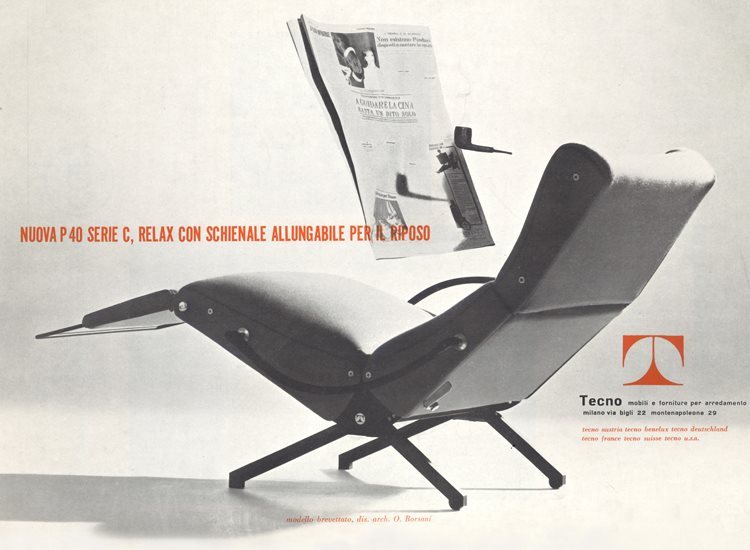 Tecno's manifesto
The P40, perhaps even more than the D70, has become Tecno's ideological manifesto launched by the Borsani family, and today remains the most well-known and popular product in Tecno's catalogue.