An office chair that brings together familiarity and exceptionality.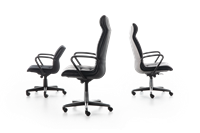 An elegant and seductive presence that encompasses, in extremely thin thicknesses and invisible mechanisms, a high level of comfort for an elegant and high-end aesthetic. The collection is developed in sizes and fittings to suit the different categories in which work is organized, from meeting to managerial rooms and executive offices, as well as conference areas and convention spaces.
Qualis is a collection of height-adjustable chairs available with low or high backrests and a range of options such as armrests, glides or castors, with oscillating mechanism or fixed.
奖项
年金罗盘奖(Emilio Ambasz 设计的Qualis办公椅) , 1991