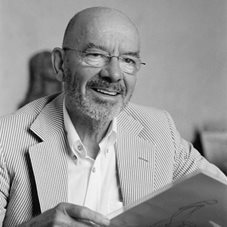 Mario Bellini
In 1998, by designing with his son Claudio the working system Extra Dry, the architect Mario Bellini started his cooperation with Tecno.
Mario Bellini was born in Milan in 1935, and graduated in architecture from the Politecnico di Milano in 1959. In 1963 he began his design career as an industrial design consultant for Olivetti; he then went on to work with major Italian and international companies (B&B, Cassina, Heller, Flou, Yamaha, Renault, Rosenthal, Tecno, Vitra).

He has won the Compasso d'Oro eight times and been awarded some of the most prestigious international honours; 25 of his works are included in the permanent collection of the Museum of Modern Art in New York, which dedicated a personal retrospective to him in 1987.

In addition to a memorable series of machines for Olivetti, his works include furniture for B&B and Cassina (such as the famous Cab chair) and the innovative office chairs he designed for Vitra.

Since the 1980s he has been focusing on architecture with increasing success in Europe, Japan, United States, Australia, United Arab Emirates. From 1968 to 1991 he was editor of Domus, a prestigious monthly magazine on architecture, design and art. In 1987, continuing with the professional practice he opened in the 1960s, he founded MARIO BELLINI ASSOCIATI SRL, of which he is CEO. MBA offers professional services ranging from masterplanning to architecture, to exhibition and museum design.

In 1997 he transferred product and furniture design work to the Atelier Bellini, a company that he set up with his son Claudio.

Bellini's main architectural works include:

In Italy
Turin Cultural Centre, 2001-in planning stage (international competition-winning project) Portello extension of the Milan Trade Fair,1997

International Congress and Exhibition Centre at Villa Erba in Cernobbio (Como), 1990

Abroad
Natuzzi Americas Headquarters, High Point, North Carolina, USA, 1998

Tokyo Design Center, Tokyo, Japan,1992

Arsoa Headquarters, Yamanashi, Japan,1998

Extension of the Essen Trade Fair, Germany, 2001

Expansion and renovation of the National Gallery of Victoria, Melbourne, Australia (appointed through international competition), 2003

Major projects
Goshikidai Marina Resort complex, Japan, 1993

Dubai Creek Complex, United Arab Emirates, 1994

Stolitza Towers in Moscow, 1996

Bank Cassa di Risparmio di Firenze (Florence) - New headquarters, 2003

Cittanova 2000, Modena, Italy, 2003

European Patent Office, The Hague, Netherlands, 2004

In 2004 he won the international competition for the Museum of the city of Bologna (Italy) in the Palazzo Pepoli Vecchio, and was invited to take part in a competition to create the display and technical spaces for the new Islamic Arts department of the Louvre Museum in Paris.

In 2006 a major solo exhibition of his work will be inaugurated by the Triennale di Milano.