Free-standing partition wall for plug-and-play pods completely independent from the building.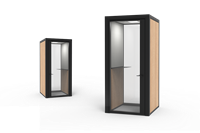 Essential and elegant free-standing Phonebooth, with greatest functionality and acoustic performances and infinitely modular. A light and flexible solution that fits into open spaces to carve out a personal and silent area where calls or video conferences can be managed in a very small space but with maximum comfort.

TQube is available in 2 sizes which comes from the WQube series of free-standing rooms available in further 6 sizes. The modularity of the system allows an infinite number of WQube and TQube to be interconnected, creating flexible networks of spaces that can be combined and re-arranged adapting to different needs over time.