Basic은 모듈 형 수납 시스템으로서 Tecno의 Nomos 와 Graphis와 같이 오피스 시스템을 자연스럽게 확장하고 보완할 수 있는 방식으로 "Centro Progetti Tecno"에 의해 만들어졌습니다.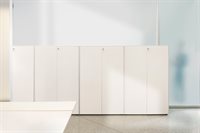 Basic의 유닛들은 작업 스테이션 간의 연결 고리로서 역할을 할 뿐만 아니라, 미적인 관심과 다양한 형태로 사무환경의 기능을 향상 시킵니다. 기본 모듈식 수납 시스템은 판금된 박스 섹션과 에폭시 파우더 페인트로 마감되었습니다. 이 시스템은 서랍 유닛, 지지대, 캐비닛으로 구성되어 있습니다.

우아한 디자인과 차분한 라인이 설계되어 캐비닛과 서랍장은 다양한 구성에 사용될 수 있도록 합니다. 서랍장은 4가지의 다른 형태로 나옵니다. (바퀴 달린 서랍장 3개, 발 달린 서랍장 3개, 바퀴 달린 서랍장 1개와 드롭 파일 유닛, 발달린 서랍장 1개와 드롭 파일 유닛) 모든 버전은 손잡이가 있거나 혹은 없는 방식으로 제작될 수 있습니다. 모듈 유닛은 기본 치수가 80x45cm이지만, 높이는 72cm에서 212.5cm까지 다양하게 제공되어, 세련되고도 실용적인 서랍부터 실용적인 대용량 컵보드 등 큰 수납 솔루션을 만들 수 있습니다. 또한 작업대를 지지하는 요소들도 포함되어 있습니다.

컬러는 Basic의 또 다른 중요한 특징이며, 서랍장으로 된 사무실의 분위기를 조율하는 역할을 합니다. 서랍 장치는 무광 흰색, 밝은 회색, 어두운 회색, 황토색, 오렌지색 또는 키위색으로 있으며, 지지대와 캐비닛 및 선반은 무광 흰색, 밝은 회색 또는 어두운 회색으로 제작될 수 있습니다.
Plus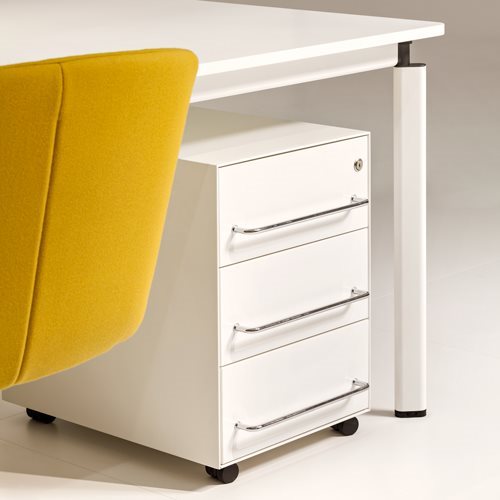 Geometrical details
The simplicity of its design and attention to geometrical details make this an extremely discreet and versatile collection.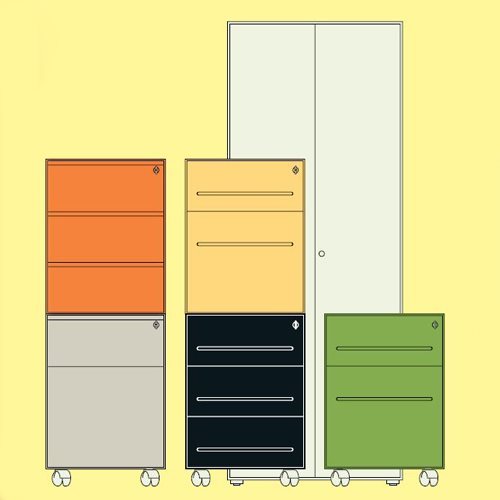 Visual continuity
The fully-metal containers create visual continuity between rooms and offer functional work surfaces, whether installed next to workstations or in shared areas.