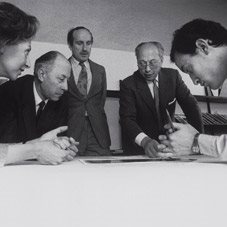 Centro Progetti Tecno
In 1970, industrial and communication design work was reorganised and the Tecno Design Centre set up.
오스발도 보르사니Osvaldo Borsani가 디자인 작업에 대한 책임을 지고는 있었지만, 실무 디자인 작업들의 경우 건축가인 마르코 판토니 Marco Fantoni가 다양한 역할을 맡고 있었습니다. 테크노 디자인센터의 설립으로 디자인에 관련된 의사결정들은 이를 통해 진행이 되었고, 테크노의 미래 디자인은 명확하고 쉬운 커뮤니케이션 스타일을 통해 그룹 창작물로 구현되어야 한다는 공감이 생겼습니다.

테크노에 있어 1970년대와 80년대는 성공적인 시대였습니다. 1973년 모두스Modus 체어가 SMAU상을 수상했고, 이탈리아 국영항공사인 알리탈리아 Alitalia의 글로벌 오피스들을 디자인하는 프로젝트는 1984년 황금콤파스상 Compasso d'Oro을 수상했습니다. 이 시기에 WS 공용좌석시스템이 소개되었고 국제적으로 유명한 건축가 및 디자이너들과의 협업이 왕성하게 진행되었습니다. 바레도 Varedo에는 테크노의 대형 생산공장이 문을 열었고, 밀라노에 남아있던 오피스도 새로운 공장으로 이전을 하게 됩니다.