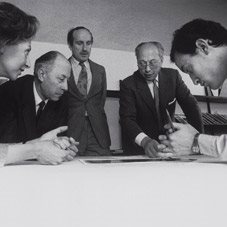 Tecno设计中心
In 1970, industrial and communication design work was reorganised and the Tecno Design Centre set up.
While Osvaldo Borsani remained nominally in charge, day to day running was left in the hands of the architect Marco Fantoni, aided by some of Tecno's key figures in various roles. The formation of the Tecno Design Centre confirmed a decision that had already been taken within the company: that future designs should be presented as group creations, with a clear and easily identifiable communicative style.

The '70s and '80s were to prove two highly successful decades: the Modus chair won the SMAU Prize in 1973; the coordinated image for Alitalia's worldwide offices won the Compasso d'Oro in 1984; the WS public seating system was introduced and collaborations begun with many internationally famous architects and designers.

The new industrial designs introduced in this period coincided with the opening of a new, larger production plant in Varedo. Soon, the administrative and registered offices, which had always remained in Milan, were transferred to the new plant too.