Tecno re-issues in a numbered edition the P31 chair, the historic design by Osvaldo Borsani, in its 3-leg version.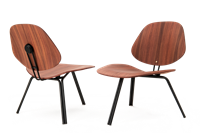 Part of ABV Collection, this iconic item continues to express all the designer elegance of its origins, while retaining its newness to this day.

The design of the chair features a formal static concept in which two thin metal tubes, united at the legs, open up to support the seat.

The twin structure of the two tubes is repeated in the backrest. P31 is available lacquered, in a variety of veneers, and upholstered in fabric. The frame is made of steel, either painted black or with a nickel-coated satin finish.