Small tables in subtle balance.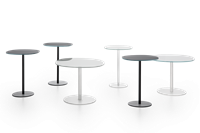 Imperfect circular shapes draw delicate reflective surfaces. The discreet and essential service elements find their place in domestic settings, lounge areas and waiting rooms.

Solenoidi is a series of coffee tables available in two sizes, a larger and more generous one and a smaller and more circumscribed one, respectively in two heights, high and low.