Chaise longue par excellence.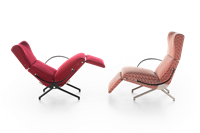 Strong in its aesthetics and welcoming in its shapes, it conceals in its essential and elegant lines a unique mechanism that opens up to a whole series of adjustable positions up to full closure. Versatile, functional and with a strong personality, it is a fast, essential armchair with irresistible comfort, and its curves characterising an iconic design.

P40 is the original relax armchair with moving elements, composed of a metal pedestal that supports the seat and backrest pivoted to allow all the intermediate inclinations between opening and complete folding. The legrest is concealed under the seat including a metal footrest, both retractable, while the headrest is extendable and the steel and rubber armrests are flexible to facilitate sitting.