Seating system for iconic, durable and welcoming wating areas.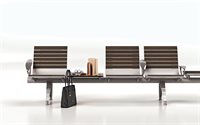 Robust, durable and flexible solution with a distinctive appearance, extreme versatility of composition, a wide range of finishes and materials, both for indoor and outdoor. Its archetypal aesthetics make it the urban furniture par excellence, supporting travelers and commuters all over the world: from subways to railways, from bus stops to tram stations, airports or connection buildings, museums or waiting areas inside corporate offices.

RS is a modular seating system, with individual elements for in line or back-to-back 2 to 5 seats, available in a wide range of standard materials - aluminum, wood, leather, self-skinning polyurethane, fabric, shaped metal sheet - or special finishes on customer request. The high bench version easily solves high-turnover areas.