A system of unlimited and flexible combinations for the workplace.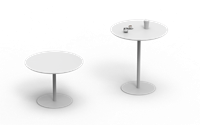 The absolute and elementary form of this system offers a radical, democratic and undifferentiated interpretation of the office, offering maximum freedom in creative for opened and shared layouts. A universe of solutions made up of clean cuts, right angles, flat surfaces, devoted to interior architecture solutions where formal rigor and cleanliness are linked to functionality and space optimization. The formal purity and infinite possibilities make the system perfect for work and meeting spaces but also executive offices and home-office environments.

Graphis is a modular system based on the logic of a reduced number of highly versatile components that can be repeated and combined with each other: rectangular or round tops, support angles, panel bases, dividing screens, storage units, shelves on the tops and accessories for electrification. A special round table version with a height-adjustable column base completes the range.

Products of the same series