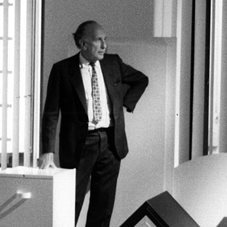 Eugenio Gerli
Inventor with Osvaldo Borsani of the historical working system called Graphis (1968), the architect Eugenio Gerli designed for Tecno some icons; among them the PS142 and S142 armchairs.
On the wall of my grandfather's house, where I was born, there was a tablet with the engraving "living to build". And that is how it has been. I became an architect in 1949, after two years of engineering studies. I immediately began to design on a regular basis, collaborating and measuring swords with customers, colleagues, artists and builders; 25 years after I have been joined by my sons Enrico and Guido, just graduated.

I will express my curriculum by concentrating it in only 6 moments of different design activities. Beginning with the Cardiology Clinic in Laveno-Monbello (1950), Ambasciatori movie theater in Milan (1954). Commerce and Tourism Union in Milan, in corso Venezia 47-49, renovation and restoration of the Castiglioni Palace (1903) and the Bovara Palace (1787) – Interior decoration by Tecno among the numerous projects in the country, on the seaside and in the mountains I have chosen the "Club House" the headquarters of the "la Pinetina" golf club (Appiano Gentile).

I have worked and traveled a lot outside Italy, in the USA, Europe, Africa, Persia, Kuwait, Saudi Arabia: I have chosen the "living room dome" on the terrace of a palace in Riyadh built in glass protected by circular metal "rings" (1980) - in collaboration with Osvaldo Borsani. I have designed and built many residential buildings in Milan and Rome; subsequently new headquarters with turnkey design for banks, industrial plants, offices.

Interior architecture: "El Toulà" restaurant in Milan, Hotel "Carlton Baglioni" in via Senato in Milano, numerous apparel showrooms and offices for "Etro", private residences.
Industrial design
Already as a student I began to experiment with "new" materials: plastic felt, curved plywood, and in the winter of 1948 I participated in an exhibition at Fede Cheti with a three-legged stool.

I participated in the IX Triennial, with four models that concretely concluded my studies.
I collaborate with Rima, based in Padua, realizing a pivoting office armchair with an elastic joint on a central support in cast aluminum.

1957 saw the beginning of a new and intense season that has lasted more than 35 years, during which I have worked closely and regularly with the Borsani brothers, and in other words with Tecno.

This exclusive collaboration has proceeded along with my professional activity, sometimes merging with the latter.

I have worked closely with Osvaldo and with the Research Department, creating many of the products of the Sixties, Seventies and Eighties; it is sometimes hard to pinpoint who authored the initial idea and the final design.



Butterfly table T92
Stackable chair with seat and backrest in curved plywood S83
Chairs with metal structure S81 and S82
Armchair P28 with circular design
Table with cast dovetailing central base T69
Table with two heights T87
Beds that may be superimposed L75
Coffee tables with variable tops T68
"Giamaica" bar with two valves
"Clamis" upholstered armchair with two shell structures
"Domino" modular bookcase
Bookcase with sliding glass doors E333
"Aries" Office chairs
Sofa with corners in wood

Rocking chair on metal track ……..the latter two have been designed in collaboration with my son Enrico.

and finally inventing a "system" for the essential organization of operative offices based, for the first time, on only 3 monochrome modules: the Graphis (1968) the "backbone" of Tecno.

This as far as production is concerned.

As to architecture and interior design:
the tower-shaped plant in via S. Michele and the new one with the current offices the Milan headquarters in via Bigli the showrooms in via Monenapoleone, Milan, in Rome – Naples – Catania – Genoa - Geneva- Turin - Brussels.
When there was an important or difficult job to do, also on the other side of the world, Osvaldo and Fulgenzio Borsani used to say, in dialect, "give it to Gerli".