The armchair par excellence: soft, cosy and colloquial.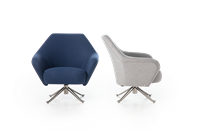 The innovative combination of seat inclination and characteristic freedom of movement, with automatic return-to-position, made the armchair perfect for rest and conversation in its day - and still does today. It is the ideal choice for both home - for which it was created - and office environments, as well as lounges and reception areas, to accommodate with maximum comfort while ensuring that the environment is always tidy and iconic, as soon as people get up.

P32 is a swivel armchair, with automatic return and tilting backrest mechanism.