The origami armchair, in which transversality and flexibility create a classic piece.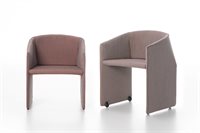 The enwrapping and comfortable geometry of the chair is the result of a careful research on the fine balance between orthogonal lines and soft signs. The design is characterized by ease of use and a striking but elegant visual impact, and it result extremely versatile making the seat ideal for home settings, around a dining table or accompanying sofas in the living area, but equally suited to offices and contract spaces such as meeting and waiting areas.

Plau is an enveloping chair, with floor length sides, which is available in two seat heights – table or relax – and can be chosen on feet or castors, internal on the sides and completely concealed.