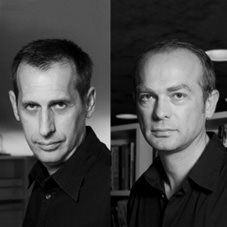 Gabriele and Oscar Buratti
Gabriele Buratti (1962), architect and professor of interior design at the Facoltà del Design of the Politecnico di Milano (2003-2010), and Oscar Buratti (1967), architect, have founded the architecture and design studio BURATTI ARCHITETTI.
Until 2010 Buratti+Battiston Architects, with the partnership of engineer IvanoBattiston.

The studio is transversally involved in projects of different scales, from the architecture of buildings and urban areas to interiors, from furniture and product design to exhibition and showroom design, from brand identity to graphics, in an intense and varied professional path, in which themes, locations, brands, people, materials and workmanship mingle together contaminating one another.

They design residential, commercial and industrial buildings, they carry out projects in historical city centres and refurbishing measures of building complexes, they design villas and interiors of working, residential and retail spaces, in Italy and abroad, with the aim of combining culture with professional specialization, experimentation with technique and an original vision with a high standard quality.

In the retail sector they collaborate with prestigious brands such as: La Perla, Automobili Lamborghini, Husqvarna Motorcycles, BMW, Ducati, LeBourget, Oroblù, Acerbis Italia, Tre Marie/Barilla, designing boutiques in the major cities around the world.

In the field of design they collaborate with major companies such as: Acerbis International, Antonio Lupi, B&B Italia, Ceccotti Collezioni, Effetti, Antonio Frattini, Gallotti&Radice, iGuzzini, Poliform, Poltrona Frau, Roca Sanitario, Silvelox/Domina, Tecno, Valli&Valli, Vondom.

They have achieved numerous international awards and recognitions among which: the Wallpaper Design Award 2010, Design+Plus Award 2009, Best_Ed Award 2010, FX Design Award 2009, KBB - Product Innovation Award 2009, Honorable Mention XXII Compassod'Oro 2011, Silver Delta Award 2011, OAB Award 2012, ARTRAVEL Award 2013.