A design which changed our way of thinking about the object that is the table forever. Nomos is the pioneer of all shared structure systems and a recognised icon of industrial design.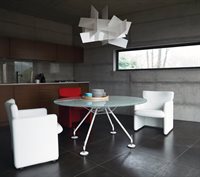 The basic concept is simple: a surface rests on a structure with a central backbone, 2 side support arms and 4 tilted, projecting legs, analogous to the structure of vertebra and ribs of the human body. Conceived as a solid skeleton with a zoomorphic aesthetic, it allows the dry construction of a wide range of compositions that can be adapted to multiple uses, from individual workstations to large meeting tables, to the latest desksharing solutions.

The Nomos Table differs from the other components of the Nomos System for the size of its tubular frame (25 mm / 1 " instead of 30 mm / 1 1/4 "), for the angled shape of its base and for the dedicated castings that support the top instead of the basic substructures of the System. The spacers supplied with the Nomos Table allow to set 2 desk top heights (72 cm / 28 1/3 " or 65 cm / 25 2/3 "), reconfigurable as needed.