An armchair in which form, function and ease of use come together.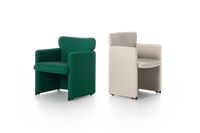 It is the archetype of the fully upholstered armchair. The collection stands out for its essentiality, blending perfectly with home, work and reception environments, whether extremely minimalist or characterized in the aesthetic.

The 148 Series consists of the taller, upholstered S148 armchair for dining tables or meeting rooms, and the lower, more enveloping PS148 armchair for lounges, waiting areas or conversation.