A table with a supple elegance and a sinuous shape: the harmonic line of the body is the outcome of an extraordinarily complex technicality.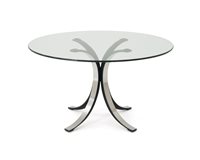 The aluminium casting techniques, satin finished externally and matt-black painted internally, create a unique silhouette ideal for diversified settings, from residential to commercial, small meeting areas to lounges and cafeterias.

T69 peculiarity is the structural base which has a strong graphic character due to the architectonic sign referring to Tecno logo.