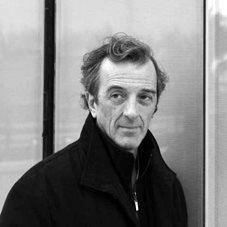 Rafael De la Hoz Castanys
The design entente between Tecno and spanish architect Rafael De la Hoz Castanys started in 2003, with the design of the indoor partitions for the Endesa Group Headquarter in Madrid.
Born in Cordoba in 1955, Rafael de La-Hoz Castanys obtained his degree at the Escuela Técnica Superior de Arquitectos in Madrid, followed by a Master M.D.I. at the Madrid Polytechnic University. At present, he directs a studio under his own name.
Among his most important recent activities: participation to the X Bienal Internacional de Arquitectura de Argentina, held in December 2005 in Buenos Aires, as well as "Obra reciente" organised by Fundación COAM, and the preparation, in collaboration with eleven of the most active studios in Madrid, of a cultural plan for urban furnishings, named "Madrid Diseña".

He has just obtained (January 2006) Distinción COAM a la Obra de los Arquitectos for the Retiro town council building, for which he received another two prizes: the international "Bex Awards 2005" in Greece, in the "Best Technological Building" category and a Mention in the "Premios de Urbanismo, Arquitectura y Obra Pública del Ayuntamiento" held in Madrid in 2004. Furthermore, this year, the financial journal "La Gaceta de los Negocios" awarded him the Premio al Concepto Arquitectónico y al Proyecto Urbanístico for his "Distrito C de Telefónica". Among the most important prizes received: Premio COAM 2003, for the urban plans "Encina Real, 60 viviendas en el Encinar de los Reyes", a project which, with the "Centro Empresarial Bilma", also obtained a mention in the Premios de Arquitectura, Urbanismo y Obra Pública 2002 assigned by the Madrid city authorities; Mention in Premios de Urbanismo, Arquitectura y Obra Pública 2003 del Ayuntamiento de Madrid, in the Bioclimatic Architecture category, or the Endesa headquarters; and the Grupo Vía award to the most distinguished Architect in 2004.

Recently Rafael de La-Hoz has inaugurated various buildings in Madrid, amongst which: the Headquarters of the Executive Committee of the Chambers of Commerce, the Retiro Council Offices and the New Auditorium of the Spanish Olympics Committee. At the moment, he is working on projects such as la Ciudad de las Comunicaciones, Distrito C, de Telefónica, Las Torres de Hércules en Los Barrios, Cadice, the sustainable building, "Pórtico", present Marsans headquarters, the legal studio Garrigues y Uría & Menéndez, Hotel Emilio Vargas (Confortel), the restoration of Hotel Ritz, expansion of Fundación Rafael del Pino, the official BMW dealer for Spain and Portugal, the multi-function centre "Dehesa Vieja" and conceptual plans for many city projects in foreign countries, including China and the Arab Emirates.

His works include many famous projects such as the prize-winning Centro Empresarial "Bilma", central offices of Vodafone, the Centro Empresarial "Parque Norte", restoration of Cine Proyecciones, offices of Avenida de Aragón "Pentax" as well as the prize-winning Centrale di Endesa.