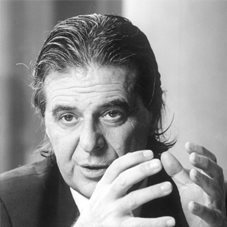 Ricardo Bofill
Tecno began its cooperation with the spanish architect Ricardo Bofil in 1992, with the interior design of the airport El Part in Barcelona.
Ricardo Bofill was born in Barcelona and studied at the School of Architecture in Geneva, Switzerland. In 1963 he founded a group formed by architects, engineers, sociologists and philosophers, creating the basis for what today is the 'Taller de Arquitectura' (Architectural Workshop). 'Taller de Arquitectura', with headquarters in Barcelona, accomplishes a collective and elaborate system for project design, establishing a technical collaboration in all countries where it undertakes projects. It is a group aiming at the highest quality, capable of conceiving and carrying out projects anywhere in the world. With this aim the 'Taller' uses all the means available: modern techniques, human resources, the professional expertise of each individual and the efficient organization of its structure. This multidisciplinary international team takes on projects of city planning, transport, leisure, housing and offices. In their conception these projects include the design components: furniture, sculpture and interior design.

City design, as applied in the European cities of Bordeaux, Luxembourg, Rome, Prague, Warsaw, Kobe and Madrid, as well as in Boston, U.S.A. In China stands out the project for Qingdao Olympic Games village, the Beijing Bioengineer & Pharmaceutical Industry Base, proposal for a new district in Beijing, Landmark Buildings, high-rise building complex. The 'Antigone' neighbourhood in Montpellier is a tangible example of a project on a grand scale, a part of the city which has been designed and constructed by this team during twenty years.

In the field of great infrastructures Barcelona Airport extension of 1991 stands out and the future one will be achieved in 2008. In the field of cultural equipments the team has designed the 'Valladolid Auditorium' in Spain, the 'Metz Auditorium' in France, where the most famous maestros perform, and the 'Shepherd School of Music" for Rice University in Houston. In Barcelona the Catalan Government commissioned the Taller the project for the 'National Theatre of Catalonia', a building of great cultural prestige.

Housing is another area studied by 'Taller de Arquitectura', especially the great projects carried out in the 'Villes Nouvelles' near Paris. The construction of several residential complex in Barcelona, Stockholm, The Hague and Luxembourg reinforces the team's presence on the European housing scene.

The Taller de Arquitectura has had the opportunity to demonstrate its know-how by carrying out several office building projects, of which the most relevant examples are the offices for 'Banque Paribas', the prestigious 'Cartier', 'Christian Dior', 'Decaux', 'Gan' and 'Axa Insurances' headquarters in Paris, Corso Karlin in Prague, Atrium Saldanha in Lisbon. Outstanding among the office towers, 'Shiseido Building' in Tokyo, 'Dearborn Center', completed in 2003 and 'Donnelley Building', the first skyscraper signed by Ricardo Bofill in 1992, both in Chicago.

Having won a series of important competitions, the 'Taller' asserts itself more and more in its capacity for diversification.


Awards and honorary mentions
1996 - Named honorary fellow of the Bund Deutscher Architekter (BDA) Bonn, Germany
1995 - Awarded Doctor Honoris Causa, Metz University, France
1989 - Awarded Architect in Belgium, Ordre des Architectes Conseil du Brabant, Brussels.
1989 - Chicago Architecture Award, Illinois Council/American Institute of Architects/Architectural Record, Chicago, USA
1989 - Awarded by the Académie Internationale de Philosophie de l´Art , Bern, Switzerland.
1985 - Named honorary fellow of the American Institute of Architects.
1984 - Awarded Officier de l'Ordre des Arts et des Lettres Degree, Ministry of Culture, Paris, France.
1980 - Awarded Ciudad de Barcelona Prize of Architecture for renovation of the cement factory in Sant Just Desvern, Barcelona, Spain.
1979 - Awarded Architecte Agrée Degree Ordre National des Architectes, Paris, France.
1978 - Awarded A.S.I.D. (American Society of Interior Designers), International Prize, New York.
1968 - Awarded Fritz Schumacher, Honoris Causa Degree, University of Hamburg, Germany.
1963 - ADI-FAD Award in Architecture for building on calle Nicaragua 99, Barcelona, Spain.

- Awards to Saldanha Building, Lisbon 1998: Excellence Award for architectural work and interior design. Best work of the year.
- Award of the City of Lisbon to best architectural work and urban integration.
- Awards to Donnelley Building, Chicago 1990-1996
The Chicago Lighting Award of Merit
West Wacker The Award of Merit (Structural Engineers Association of Illinois).
- Award for Support of Affirmative Action - 1992 Chicago Urban League
- Real Estate Development of the year - 1993 Chicago Sun-Times
- The Excellence in Engineering Award - 1993 American Society of H. R. A.C. Engineers
- Best New Building Award - 1993 Friends of Downtown
- Grand Award for Interior Landscape Contractors. American Landscape Contractors
- One Star - Architectural Interest - 1996. Michelin Guide of Chicago
- Favourite Building and Favourite Lobby. Survey of Chicago Tribune readers