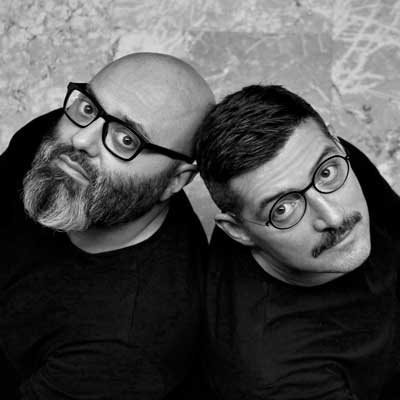 Calvi Brambilla
In a world in which imagination counts as much as functional rigour, the Calvi Brambilla studio, established in 2006, designs private residences, offices, shops, interior architecture, stands and products with an approach that combines creative flair with function.
The studio's partnership with Tecno in a number of projects for the largest trade fairs, including the Milan Furniture Fair and spaces at Orgatec, Cologne, has now led to the studio and company working together on the prestigious Palazzo Barover&Toso project. Colour and light, often seen as a single essential tool for organising space, are here used as decorative elements in a pure, graphic sense, effectively communicating products and history.

Thanks to their ability to find the balance between their sometimes opposite visions of design, Fabio Calvi and Paolo Brambilla have brought together their individual approaches to create a truly unique style statement. Their collaboration is based on an idea of synthesis which renders the sense of the project immediately legible, characterised by accents of subtle irony.