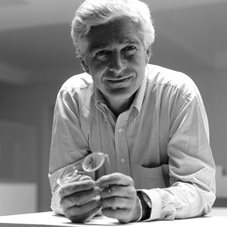 Luca Scacchetti
In 1998, with the executive system Ianus - characterised by classic design and hand-craft solid wood - the architect and industrial design professor Luca Scacchetti started to cooperate with Tecno.
Luca Scacchetti was born in Milan in 1952. In 1975 he obtained a degree in Architecture at the Milan Polytechnic. For several years since then he has been teaching in various institutes: at the Milan Polytechnic, the European School of Design, and the Brera Academy in Milan. From 1990 to 1995 he was Head of the Architecture Department at the European School of Design.

He is the writer of various essays and articles on different topics regarding the history of architecture, the methodology of architectural planning and the relations between these and industrial design.

He plans and supervises works in Italy and other countries, from Japan to Spain, Greece, China, France, varying his themes on the basis of the urban layout, the buildings, the renovation of buildings and interiors.

He also has a great interest for design and collaborates with many important Italian and European companies producing furniture, lighting systems and design objects.

Some of his works:
Hotel Litta Palace, Milan.

Expo Shanghai headquarters: overall and final planning of the pilot site of the Expo quarters (22 5-storey buildings and four towers) housing about 2500 inhabitants as well as community services, green areas, underground parking and businesses.
Residential building in Piazza Buonarroti, Milan. Hotel dei Congressi, Assisi: a structure composed of 154 rooms, communal areas, conference centre, fitness centre, open theatre, surrounded by a forest protected by the BB.AA.

Plans for the recovery of the old furnace and headquarters of the Mountain Community, Barzio-Lecco: the recovery of the old furnace premises foresees a series of new buildings destined to the management and promotion of the local area.

Residential complex with offices and shops in Viale Majno and viale Piave: two residential buildings of seven and six floors; the two buildings are connected by a passage destined to commercial use, one story high with a central gallery and overhead garden, and three underground floors dedicated to facilities and parking.

The Guglielmo Marconi Airport, Bologna: the project approaches the theme of an airport as the entrance to a city and its local surroundings.

Renovation of the International Airport Leonardo da Vinci, Rome: the international area of the airport is divided into a series of sub-themes, all treated as individual.